Question
The bible seems to indicate that the earth and the universe are less than a few tens of thousands of years old. Science talks in terms of billions of years. Which is right?
Answer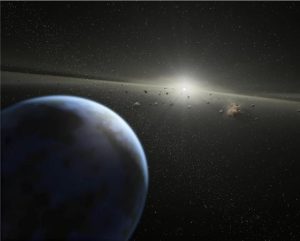 For reasons that escape me, "science" is perceived as having fixed, reliable and universally agreed views on the age of the earth and the universe. This does not reflect the reality that science is always a developing field of knowledge and enquiry; we frequently see today's "facts" becoming tomorrow's jokes (cf. flat earthism). Moreover, although there may appear to be a general consensus within the scientific community, we should never equate consensus with knowledge. Nor should we suppose that any one particular scientist holds the same view as all other scientists, nor that those views have in all cases been arrived at by personal impartial examination of the primary evidence.
Although this is merely scraping the surface of the body of knowledge on dating methods, it too often appears that (for example) the geological method is used to confirm the radiocarbon method and vice versa. Such circular proof is no proof at all and certainly demands closer scrutiny. Furthermore, the fact that a particular dating method appears to hold good over a period of a few hundred years cannot give us an assurance that it can also hold true over many millennia. This gigantic extrapolation involves what I can only describe as a breathtaking leap of faith.
We know that the speed of light appears to be a constant and that we can observe stars that appear to be millions of light years away. The contemporary view of most astronomers would be that the light reaching us (from a supernova for example) shows us a picture millions of years old. To this, a young earth creationist might respond that the point of creation involved such a massive injection of divine power that these supernovae occurred rapidly, while the universe expanded rapidly (say to its present size within a matter of hours) making it appear as though those events occurred long ago.
It is clear to see that these widely differing viewpoints both rely on baseline assumptions: "today's science has got it right" versus "the bible tells us that the earth is very young".
For my own part, I hold neither view. It is not really an important question for me, since my faith is based on a personal relationship with someone who I know and whose influence on my life I have witnessed first hand. It is necessary for me to have source scriptures that are reliable, but I will be the first to admit that I do not always understand what they are saying and that they can easily be misinterpreted, not the least because we English speakers receive them by way of translation. That said, it was recently pointed out to me that there is a particular interpretation of Genesis that may shed some light on the apparent age discrepancy between science's view and young earth creationism's. Interestingly, it comes down in favour of science.
At the very beginning of the bible, we read that in the beginning, God created "the heavens" and "the earth". The next verse has traditionally been translated "The earth was formless and empty" or words to that effect. But it can also validly be translated "the earth became formless and empty", perhaps implying a cataclysmic event immediately preceding the "re-making" of the earth and the creation of man. Thus the universe could have pre-existed the creation story by an undefined period of time.
Additionally, note that in the first verse of Genesis 1 attention is fixed on "the heavens and the earth", a Hebrew idiom for everything, i.e. the universe. But in verse 2, the focus of the narrative dramatically narrows to concentrate merely on earth and its immediate environs. This too may explain why there appears to be a discrepancy in timing.
In truth, no one knows the true age of the universe for sure. No one now living was present at the moment of creation, whether that was a Big Bang or some other impressive manifestation. We would do well to choke down our arrogance and admit that it is not possible to know all things beyond a shadow of doubt. Unless, of course, you're God.
NASA Earth from Space image from gnews pics', licensed under Creative Commons. Used with permission.