DUMMY: I'd been excited about doing this review for quite some time but describing delivery of this item from China as "slow" and "a bit dodgy" is an understatement. Now it has at last arrived though, I can say it massively exceeded my expectations.
GEEK: It was one of those occasions where the seller pretends to have "UK stock", but quotes a 30 day delivery time… And then the package turns up with a customs declaration, describing the item as a "gift". Not to mention the hassle associated with returns, should the unit prove to be faulty. So it pretty much goes without saying that we would only advocate buying from abroad for low-cost, low-urgency items like this. All that said, Dummy is right: great piece of kit, for buttons.
DUMMY: Let's wind this back a stage. Virtually every modern vehicle – even my Land Rover Defender – comes equipped with an OBD-II (On-Board Diagnostics) port.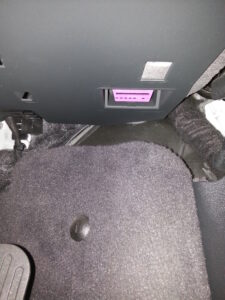 Similarly these vehicles are fitted with an ECU (Electronic Control Unit) and this little computer will be monitoring hundreds, if not thousands of events that are going on in your vehicle every millisecond. The OBD port is like a network cable into that information and the OBD Bluetooth Diagnostic Scanner
is the device that can take that information and send it to a program where it can be processed.
GEEK: He almost sounds like he knows what he's talking about doesn't he?
DUMMY: [ignores Geek] Sounding complicated? It really isn't. You find an app that works with the scanner, you plug the scanner in, you start your engine and hey presto, an immediate window to the soul of your car.
GEEK: There are a few apps out there that will translate this information into a variety of user-friendly dials and displays. At the moment, for Bluetooth adapters like the one we're reviewing, you're basically restricted to Android or PC devices. Apple is extremely fussy about what it will allow to connect via Bluetooth. Yet another reason to see the light and throw your iDevices in the bin.
DUMMY: You just can't pass up an opportunity can you?!
If I'm honest, my boy racer days are behind me. Although I was mildly interested in seeing live BHP calculations and how many G's I was pulling, the main attraction of this device to me are the diagnostics. Select the right app and it is simplicity itself to interrogate the ECU to find out how your car is feeling. Not just viewing and interpreting fault codes, but also resetting those codes as required. Yes that's right, that job for which your dealer or local garage charges you £40 a pop, you can now do for yourself and all your friends and family for £6 – for life.
GEEK: Ha – middle-aged much?! We've looked at some interesting devices this year, expensive and cheap. Of them all, without doubt this has to be the simplest and most cost effective purchase of the year.
DUMMY: Ha – skinflint much? It's a real shame that this is no use for Apple devices, in its cheaper Bluetooth form. Looks like this Apple fanboy is going to have to hand the best bit of equipment we have bought this year straight to Geek.
GEEK: Rest assured, if we can work out an easy way of making it work with iOS, we'll be all over that. Watch this space! In the meantime, the Android apps we used in our tests were aLapRecorder HD (which unfortunately appears to have been abandoned by its developer), Carista OBD2 (free) and Torque Pro (not free, but excellent).
DUMMY: Anyway, enough chat. Here is a little road test we did together of this brilliant little device. I apologise in advance for Geek's driving!!
[easyreview title="Consensus" icon="collab" cat1title="Ease of use" cat1detail="Couldn't be any easier, no really." cat1rating="4.5″ cat2title="Features" cat2detail="Its feature is communciating via Bluetooth which is does faultlessly. The clever stuff happens in the software it connects to." cat2rating="4″ cat3title="Value for money" cat3detail="Can't be beaten. Full stop." cat3rating="5″ cat4title="Build Quality" cat4detail="Feels substantial. We certainly don't pick it up and think it's cheap." cat4rating="4.5″ summary="We can't tell you how delighted we are with this purchase – and the price delights most of all!"]