To contact me securely/confidentially, please use KeyBase or ProtonMail (contact me for the address or, y'know, guess 🙂 ). Follow me/connect: GitHub | LinkedIn | | Mastodon | Twitter
Hi.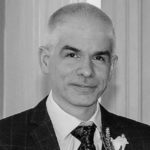 I have been interested in computing for most of my life. Qualified in law, computer science, enterprise architecture and security, I practised law for ten years, dealing with private client law and charity law. I managed the I.T. for my firm for the duration of my career, before moving into a formal I.T. position in 2006.
As my career progressed, my focus increasingly shifted to information security and compliance. In May 2017, I qualified as a CISSP, and in September 2019, I became a Certified ISO/IEC 27001 Lead Implementer. For more, see my LinkedIn profile.
My first novel, Insensate, was published in 2006. I retain fond hopes of writing sequels. For the time being however, as a parent of disabled adult children, my life is already quite full!
I rarely post here – aides memoire mainly and the odd thing that interests me. Comments are very welcome. Due to excessive spamming, comments enter a moderation queue and require approval before they appear on the website.
I'm also a fan of photography, shooting mainly with a Canon EOS 60D
and a variety of lenses. Occasionally, the results appear on Instagram.
Full disclosure: there are some affiliate and advertising links on this site and if you follow those links, I may receive a small commission on any sales – but this doesn't affect the prices you'll see. Any funds received this way help to pay the costs of hosting this site and domain.