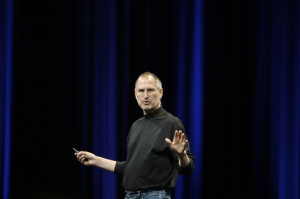 Business legend Steve Jobs died late last night. I heard about it through that most modern of news outlets: Facebook. I read the story on my company-supplied iPhone (which, by the way, I didn't want; I'd rather use the Android that I keep in my drawer – long story).
The death of Steve Jobs follows the release of the much-anticipated iPhone 4S, the successor to the iPhone 4. Perhaps that 'S' should stand for 'swan song'?
This morning, I mentioned Jobs' death to a friend, who said, "Who's Steve Jobs?"
Who's Steve Jobs? I guess if you're indifferent to technology and design, you could be forgiven for not knowing his name. But whether you've heard of him or not, his influence has almost certainly had an impact on you. The number of modern innovations associated to his name is impressive:
First successful personal computer with a graphical user interface (the Macintosh)
First WWW (World Wide Web) server
Pioneering in rich content email
Through Pixar, the first entirely CGI film, Toy Story
iTunes: simple access to large online catalogue of music, incorporating digital rights management
iPod: user-friendly range of media players
iPhone: user-friendly smart phone. When asked to recommend a phone to colleagues, I suggest Android for the technophiles and iPhones for the technophobes. The success of this approach tells me everything!
iPad: a device that "experts" claimed was superfluous but which has shipped in phenomenal numbers, battering all manufacturers' competition in the process
Obsessively well-designed low voltage power supplies (built in cable management, magnetic quick-release plugs)
Multi-touch mouse
Given the number of patents that bear his name, I have inevitably missed some…
I am not an Apple fanboy. In fact one of my favourite sports is baiting Apple fanboys. But I simply can't help admiring this charismatic man who for so long helmed one of the most successful companies of all time simultaneously bringing design genius and technical excellence to the masses. Steve Jobs, one time living legend, your legacy will live on.
Meanwhile, someone somewhere just patented the iHarp.
Steve Jobs image copyright © Ben Stanfield, licensed under Creative Commons. Used with permission.