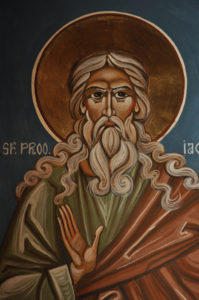 In the story of Jacob and Esau, Jacob, the younger twin, uses fraud and cunning to take Esau's birthright from him. The significance of the birthright in Old Testament times cannot be overemphasised. The end result was Jacob becoming the ancestor of the Israelite people, blessed by God and Esau becoming the ancestor of some of their mortal enemies, rejected by God. On the face of it, this preferential treatment might seem unjust, if it derives from Jacob's use of subterfuge.
But perhaps therein lies the mistake, assuming that the blessing flows from the deceitful act, rather than from a prior or independent choice of God's. If we look back in the story, even before the birth, God had said to the boys' mother, Rebekah:
23 …Two nations are in your womb,
and two peoples from within you will be separated;
one people will be stronger than the other,
and the older will serve the younger.

Genesis 25:23 (New International Version – UK)
And why did God choose Jacob over Esau? We may never know the full reasons, but here are a few thoughts:
God's decision to bless Jacob is made prior to the children's birth and prior to their ability to commit a sinful act. In this way, God provides an early demonstration of the principle that his favour is not based on our works.
God foreknew the events that would unfold. Remember that prior to Jacob deceiving his father, it is said of Esau that he "despised his birthright" (Genesis 25:34). He had sold it to his brother for some stew (probably not realising that Jacob was in earnest about taking the birthright).
It is possibly implied that Esau would not have honoured his bargain pertaining to the transfer of the birthright, hence Jacob's need to take it by deception.
Whatever the real reason behind God's choice, there are a few scriptures that cast light on his mode of operation. Firstly, the divine right of God to dispense special grace as He sees fit:
19 … I will have mercy on whom I will have mercy, and I will have compassion on whom I will have compassion.

Exodus 33:19 (New International Version – UK)
Secondly, the attitude we are expected to maintain with respect to God's grace:
21 … The LORD gave and the LORD has taken away; may the name of the LORD be praised.

Job 1:21 (New International Version – UK)
Amd thirdly, lest we be in any doubt, our position in respect of deserving God's favour:
10 … There is no-one righteous, not even one;

Romans 3:10 (New International Version – UK)
In short, Jacob could not have earned God's blessing. Furthermore, we can take some comfort from the fact that God blessed him despite his behaviour. And finally, we can see that in His glorious timescale, God's purposes will be fulfilled, even though we and our enemy try our hardest at times to defeat those purposes.
---
Scripture taken from the HOLY BIBLE, NEW INTERNATIONAL VERSION®. Copyright © 1973, 1978, 1984 Biblica. Used by permission of Zondervan. All rights reserved.
The "NIV" and "New International Version" trademarks are registered in the United States Patent and Trademark Office by Biblica. Use of either trademark requires the permission of Biblica.
Isaac – Brancoveanu Monastery image copyright © Fergal of Claddagh, licensed under Creative Commons. Used with permission.