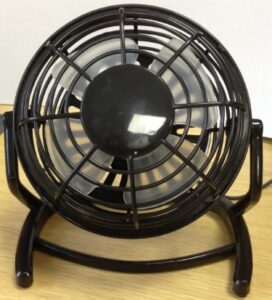 A simple USB powered fan that claims to be silent.
It's cheap and it's cheerful and barely worth a review you might think. I work in a very warm office though and have bought a number of these at varying prices; some have been very poor indeed!
I bought this one from Amazon and it was free postage so all in all a cheap little thing to buy. As you can see from the picture, it looks kinda cool and in the flesh it is a nice little compact fan that's about 16cm high, 14cm across and 9cm deep. It has a generous USB cable and looks good on my desk.
The first thing you will notice when you take it out of the box is it's quite flimsy. Whilst the black gloss plastic looks cool, it bends and flexes just getting it out of the box. It is very light though.
Having said that about its general quality, it has 3 foam feet to reduce any vibration and for what it does and how small it is, I don't think it warranted being constructed of anything more robust. Although it feels a bit flimsy it does seem to be correctly formed and engineered as a product.
Plugging it in, it instantly kicks into life with no fuss and has a good quality on/off switch on the back of the main fan body. I wouldn't say it's silent but it is very quiet and not a distraction at all to have on my desk.
So then, how does it actually perform? I work in a warm office and on occasions the air con just doesn't cut it and I need a bit of a breeze to circulate the air without blasting papers off my desk. This fan is no tornado, far from it, and I've found it needs to be positioned within approximately 60cm of my face for me to get any kind of effective breeze from it. But do you know what? That's all it needs to do. It's small, great looking, very quiet and circulates the air around me nicely if positioned relatively closely. All in all, a great buy and excellent value for money if you remember that it is just a mini USB fan.
[easyreview title="Dummy rating" icon="dummy" cat1title="Ease of use" cat1detail="Plug it in and away you go. Simple as can be." cat1rating="4″ cat2title="Features" cat2detail="Maybe would have benefited from a 2nd speed." cat2rating="3.5″ cat3title="Value for money" cat3detail="At £5.99 delivered it's decent value." cat3rating="4″ cat4title="Build Quality" cat4detail="I guess it's sufficient for what it is but could have been a little heavier." cat4rating="3.5″ summary="A good cheap price for a an above average product that does exactly what it says on the tin."]