I'm a fairly heavy user of apps on my mobile devices. I periodically review them, but it's quite rare I discover an app that I can happily uninstall and live without. It's not uncommon for me to have over a hundred apps installed, only one of which is a game. And I'm sure I'm not alone in this. It tells us, doesn't it, what an invaluable tool the smart phone has become for life, work and play.
So initially when my phone (a Samsung Galaxy S5) told me I was running out of space, I wasn't all that surprised. Time to review my app usage. Time to move some apps from device storage to SD. Time to clear out some on-device photos and videos. Which I duly did.
And then a few days later – running out of space again. Curious.
I chased it down to the IPsec service. Each time I freed up a bit more space, according to the app manager, IPsec Service expanded to fill the void. At the time of writing, it's now consuming a wholly excessive 1.64GB – but as I've read around about this problem I see reports from Galaxy S6 users who have lost over 4GB to this service's insatiable appetite. On a clean install by the way, it's taking up 388KB.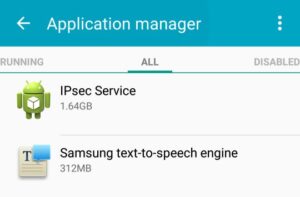 As best we can tell, it's due to some kind of memory leak in the IPsec service. This afflicts Android 5.0 – and as luck would have it, a few weeks ago I finally relented and upgraded my S5 to Lollipop. And it will be some time before the fix, in 5.1.1 is rolled out by my carrier – that's if they ever do get round to it. The S5 is so last year, darling.
So what's the workaround? Well, I wish I could give you good news. I've come up with nothing. This has taken me to the point of saying the heck with the warranty, I'm going to root it and flash a different ROM. What with this and the recent StageFright scare, it almost makes me want to move over to the Dark Side and buy an iPhone. Almost!
If you've found a more satisfactory solution, do let us know in the comments. Meanwhile, I'll be getting to grips with CF-Auto-Root and finally releasing my handset from the whims of manufacturers and carriers. Wish me luck!