Like many tech enthusiasts Dummy and I have been keeping an eye on the smart watch market for a while. As you will probably know, there a few large companies (with the Chinese snapping at their heels) searching for the holy grail of wearables: a beautiful wristpiece that is elegant, convenient, clever and durable. To achieve widespread adoption, it also needs to be affordable. Ah yes, there's the rub.
I recently stumbled across a smart watch, sometimes called "Aplus", sometimes "GV18". It's fresh out of China. And it bears more than a passing resemblance to the Apple Watch. And it's a tenth the price. We bought it for £32.98, but we've since seen it for under thirty quid. Worth a look then.
First impressions: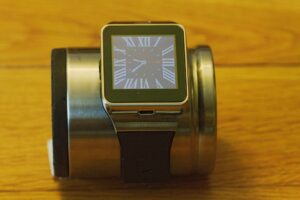 The watch doesn't look quite as nice as the computer-generated photos on websites, but it's still reasonably attractive, as smart watches go.
It's big (13mm deep) and stands quite proud of the wrist.
The case has a captive screw on the back, which stands out by about 1.5mm. Not a huge problem, but it seems like a strange design choice because the screw is for looks only. The case pops off easily (too easily) and the hole the screw sits in is considerably larger than the diameter of the screw. So it turns freely.
The manual is poorly translated.
The watch comes with a screen protector pre-installed, which suggests the glass underneath will not be scratch-resistant.
The rubber strap is very comfortable.
Horribly irritating (loud) jingle when you first switch it on.
Timepiece
For me, the problem with most smart watches is the watch part. Sounds obvious doesn't it. Really, what is the point of a watch that isn't a very good watch? If I turn my wrist to check the time, but before I can see the time I have to press a button, that's a retrograde step. That's worse than analogue. And so it is with this watch. It's an LCD display, not e-ink, and to keep the display lit permanently would be a huge battery drain. So you have to press the side button, to check the time.
Once you've done that, it's not too bad. There's a choice of three watch faces. One of these faces has a full dial of Roman numerals and is designed sympathetically with the rectangular case. I think it works. Of the other two, one is clumsy and the other is weird.
This slideshow requires JavaScript.
Interface
Oh dear it's awful. To be honest, I think they probably all are, from all manufacturers. Anything that can't be done with a press or a flick is a pain in the neck. Unless your fingers are like matchsticks, it's hard to type letters with a high degree of accuracy on the software keyboard. It's a little better with numbers, but still vaguely reminiscent of those calculator watches from the eighties. Is this really all the progress we've made in 30 years?
This slideshow requires JavaScript.
Apps
As far as I can tell, this is running a bespoke version of Android. There's no app store, no access to Google Play. There are some bundled apps, but most of them are useless and half of them only work if you have inserted a SIM card. That alone is odd. The watch is designed to be paired with a smart phone. Why would you give it its own SIM card?
I wish I could tell you more about the apps, but most of them made no sense. The only real exceptions were the calculator and the camera. But both of those were such a fiddle to use, you'd be much more likely to reach for your phone. It has a pedometer, but it just doesn't work.
Sync software
For the watch to talk to the phone, you have to install an app. The app is not the best. There are few settings. You can choose to ignore notifications from certain apps, but it's a slow and laborious process choosing which apps you do and don't want to hear from.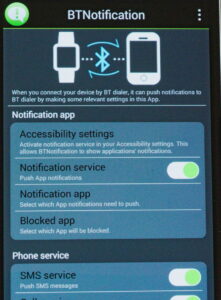 (Sorry about the poor screen grab by the way.)
If Bluetooth is switched off when you launch the notification app, you are greeted with the following informative message. Informative that is, if you can read Chinese.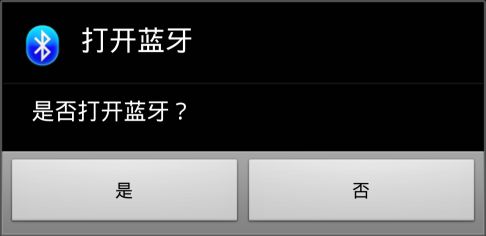 I deduced this meant you need Bluetooth to be switched on… With Bluetooth switched on, the app needs to be running in order for the watch to receive notifications. The app seems to die all on its own, without warning, and the only way you'll know that is if notifications stop arriving on the watch.
Specifications
Headline specs when compared to the similar size 42mm Apple Watch
| Spec | Aplus GV18 | Apple Watch 42mm |
| --- | --- | --- |
| Screen | 1.54″ capacitive | 1.54″ capacitive |
| Battery | 450mAh replaceable (though the battery in our unit was labelled 550mAh) | 246mAh non-replaceable |
| Claimed battery life (talk time) | 72 hours | 3 hours |
| Thickness | 12.3mm | 12.6mm |
| Bluetooth | 3.0 | 4.0 Low Energy |
| Processor | 533MHz MTK6260A | Apple S1 |
| Storage | 128M | 8GB |
| MicroSD/TF slot | Yes, 32GB max | No |
| Pixels | 240×240 | 390×312 |
| Sensors | accelerometer | accelerometer, heart rate |
| GPS | No | Yes |
| Phone | GSM/GPRS 850/900/1800/1900 (SIM slot) | Yes |
| Charging | Cable | Inductive |
| Weight | 50g | 51g |
| Camera | Yes, 1.3MP | No |
| NFC | Yes, built into strap | Yes |
| USB port | Micro USB | No |
Flaws
There are many.
Convenience. Above all else, a watch should be two things: convenient and attractive. This is not convenient. If I glance at my wrist to see the time, I'm met with a blank screen. No "shake to wake". You have to fumble for the button, which if like me you wear your watch on your left wrist, is quite awkward to reach.
Volume control. There is no obvious volume control for notifications.
Bluetooth music. You can stream music to your watch via Bluetooth. And listen to it on your watch's tiny speaker. Which is probably inferior to the speaker in your phone. Which you're streaming from (and which has to be within 10 metres, due to the limitations of Bluetooth). There's no headphone socket. So what's the point?
Time synchronisation. When the watch first connects to the phone, it asks if you want to sync the time. Since I live in the UK, my phone is set to GMT with daylight saving time. On syncing with the phone, even though the watch is set to the same time zone it changes itself to Amsterdam and puts the clock out by an hour.
Notifications. The pop up notifications are almost useless. They tell you for example that you've received an email, but there's no way on the watch of seeing that email or even any context from the email. So you have to check your phone. So you may as well just check your phone, right?
Notifications again. There's an option to switch off the notification tone. It doesn't work. So, like it or not, if you have pop up notifications, you're also going to have an annoying beep. And there's no way of changing that beep. Which brings me to my next point.
Customisation. You can't customise this watch – which is a huge loss. There are three watch faces (and two of them don't suck too badly), but that's all. You cannot add more. There are three themes for the menu/app system. Two of them are horrendous. The third is tolerable. You cannot add more. Oh, and apps? That deserves a bullet point of its own.
Apps. As I mentioned before, other than the few bundled with the watch, there aren't any. There's no equivalent of the iTunes or Google Play app stores. So you're stuck with these apps.
Interface. You need fairly slender fingers to operate it – especially the software keyboard. Very hard to hit the right letter. And since there's no voice control (see next bullet point), you're stuck with touch/swipes.
Voice control. There isn't any. And this is, we think, going to be crucial in this technology market. Watch faces will always be smaller than phone screens. It's essential that you have a usable and convenient way of controlling them. That means you need either an external interface (keyboard? your phone?), which sort of defeats the point, or voice activation. Or maybe, fast forward 20 years, a neural interface. This watch has neither, by the way.
Style. In our opinion, the Moto 360 and the LG Watch Urbane are possibly the only smart watches right now that aren't ugly. People will accept a certain level of aesthetic compromise in exchange for features (e.g. the massive "brick" phones of yesteryear), but not much. And with the 360 and Urbane on the market, all other smart watch manufacturers need to think long and hard about style.
Reliability. Bluetooth keeps disconnecting and reconnecting – even when the phone and watch remain next to each other. Is this the phone's fault? The watch's? Who knows. But every time they reconnect, the watch prompts you whether or not you want to sync time (you don't, see above!) and then spits out all the notifications currently unviewed on the phone. Which are then a bit of a pain to acknowledge/delete.
Visibility. It's really difficult to read the screen when outdoors. And when in strong sunlight, there's no chance. There's no brightness control, so there's nothing you can do about this, other than shade the screen with your hand. And squint.
Build quality. The back is not secured well (because the case screw does nothing, see above). It doesn't seem to fit well on the back of the watch. It wouldn't drop off while wearing the watch, but may at other times.
Strengths
Style. Although it's no Moto 360, it's not as bad as some other watches available now. The brushed steel is nice.
Comfort. The rubber strap is surprisingly comfortable. It's a little on the heavy/chunky side, but you get used to it.
Battery life. It lasted five days before needing a charge. How much this was to do with the fact it was essentially useless, I'm not sure (!) but it still knocks the spots off the Apple Watch in this particular department.
Conclusion
We have to give this watch some credit. For the price, it's actually pretty incredible. It's far less ugly than some of the competition and it does have a lot of functionality, even if it's not especially well executed. We couldn't help but think that in a world without smart phones, it would even be considered quite good. You could in theory load it up with a SIM card and use it as a watch, phone, calculator, contacts organiser and so on, without needing any other device. But this is a world with smart phones and when you compare it to any smart phone currently on the market, even the worst ones, this watch doesn't compete at all well. And neither does it complement a phone, bringing no particular tricks to the party.
This slideshow requires JavaScript.
It was a bit of a conversation starter, while I wore it. A novelty. And if you don't mind paying a little for a novelty item that you'll quickly find tiresome, then by all means go ahead. But we couldn't recommend it. We can't even recommend the Apple Watch, and if Apple can't get it right, who can?
[easyreview title="Geek rating" icon="geek" cat1title="Ease of use" cat1detail="Fiddly, fussy, idiosyncratic." cat1rating="1″ cat2title="Features" cat2detail="Lacking many essentials for a usable smart watch." cat2rating="1″ cat3title="Value for money" cat3detail="Very cheap, giving the (few) things it can do, but still not remotely worth buying." cat3rating="1.5″ cat4title="Build Quality" cat4detail="Mixed. Some good bits, some bad bits." cat4rating="2″ summary="Don't buy it, we beg you."]