SEE THIS CAMERA COMPARED TO TWO OF IT'S NEAREST RIVALS – VIRB HD & GO-PRO 3 
When I was first handed the Ghost Drift HD back in November it would be fair to say it had a lot to live up to – and not in comparison to the action cameras you might expect. The market leading Go-Pro I have always found to be all show and in fact not very much GO. My cheap and cheerful Kodak ZX range cameras are the real challengers, with their almost unparalleled lens quality, integral waterproof housing and cheap, easily changeable batteries. The Kodak ZX is a real hidden gem. So when I picked up the very sexy looking Drift HD with sky-high expectationsh, I was a bit disappointed with the results.
If you read my original review you will no doubt detect the 'luke warm' reception I gave it. Just keep in mind that I really did review it like the proverbial Dummy. I unpacked it, stuck in a memory card, mounted it on my bonnet and took it out.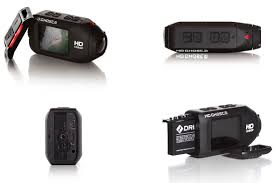 Well what a difference a few months makes!!
Just before revisiting the Drift HD, let me qualify my review by saying I dislike the GoPro Hero 3 (direct competitor to the Drift HD). To start with, the internet is littered with stories of faulty units. My main beef though is that, since the manufacturer knows it's considered to be the market leader, it cashes in on the hype with silly prices and expensive optional extras. Anyway, as far as I'm concerned if you need a separate waterproof case to make your action camera fit for purpose it's just not an action camera!
Back to the Drift Ghost HD. The big selling point for me was the remote control unit and that's proved to be a fantastic feature – not only because I can switch my cameras on and off from the comfort of the driver's seat but because the colour coded LED indicators on the remote flash very clearly to tell me the cameras' current modes. Don't get me wrong, I keep it simple when I'm filming my green lane adventures but just occasionally I like to select the burst picture mode and take some still images – and the transition is effortless.
In my first review of this camera, I wasn't a huge fan. So what's changed to make me such a convert?
It's amazing what a bit of experimentation can do. First off: mounting the camera. The 1/4″ standard camera thread is on the side of the camera. Brilliant I guess for a helmet cam. Not so much for a vehicle mounted camera. Nonetheless, get the right mounting solution and that little wrinkle is soon smoothed out.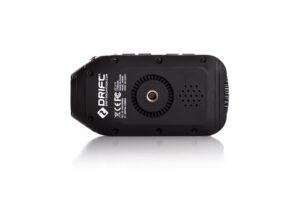 Next, low light filming. The camera comes with default exposure setting of +0. Initially that gave me disappointing results. It only took tweaking that setting up to +1.0 and oh my word, the camera is transformed! I never thought I'd say this, but the images from this camera in all conditions are now superior to my beloved Kodak lensed ZX range of cameras. They are at least comparable to the very latest GoPro but without the silly price tag and it doesn't need an extra case. Have I mentioned yet that the GoPro needs a waterproof case…?
It really is just the complete package for an action camera and as with all my kit this has been tested in wind, snow, constant driving rain and even the occasional dunking during a river crossing. I've also gained a few handy hints from this experience of using the camera in the field. These should really help you get the best from your Ghost Drift HD.
There is an app for the Drift Ghost HD. It's quite a fun thing to play with and allows you to see what your camera sees, on your smart phone's screen. Good fun to play with although I usually just use it to make sure my cameras are positioned correctly.
Spare batteries. Now although I found these batteries lasted approximately 5 hours of intermittent use via the remote control, I sometimes go on whole weekend trips; I wanted the flexibility of swapping out batteries. Spare batteries for the Ghost HD are very very cheap – about £11 for 2.
That's a lot cheaper than any of the other action camera contenders, for sure. The only thing I would say is that it's a little bit fiddly to swap a battery. It gets easier with practice but not something you can do with cold gloved hands!
I run a Pure Sine inverter in my Land Rover so I can power larger devices. I've also picked up a great Patona external battery charger for these replacement batteries making the whole process of keeping my cameras running a lot easier and smoother.
Now as for memory cards, as you can imagine, shooting the amount of footage I do, I use about one 16GB card each day in each camera so it can be an expensive thing to kit myself out with enough of them. Well that's where your friendly neighbourhood Geek comes in because he did a review of SD cards recently and it turns out that one of the cheapest SD cards is the best anyway, so the Samsung SD card is an easy and cost effective choice.
[easyreview title="Dummy rating" icon="dummy" cat1title="Ease of use" cat1detail="To get the best you need to spend 10 minutes with the manual." cat1rating="4″ cat2title="Features" cat2detail="What else could you possibly need." cat2rating="5″ cat3title="Value for money" cat3detail="It's still a bit on the pricey side for me but a lot better value than the market leader." cat3rating="4″ cat4title="Build quality" cat4detail="Tough rubberised coating and waterproof seals. Solid" cat4rating="5″ summary="This is where the smart money is. A genuine GoPro killer"]
So you have my advice and you have my opinion now I've had the benefit of having used this camera in all conditions. It only remains fr me to show you the latest film I made with this set-up, which should be featured in Land Rover Monthly's May Edition.