I love these cheap little odds and ends that transform how you use a piece of tech.
The problem? I've never been very happy with the way my car's satnav mounts. Inevitably it ends up on my windscreen leaving a tell-tale circle on the window for thieves to see and generally making the screen dirty.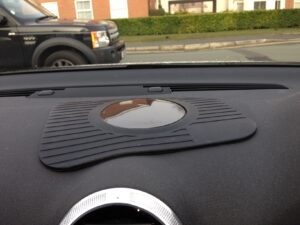 Enter the very simple and very cheap non-stick car mount mat. I'm sure you've seen them advertised and I have looked at them and scoffed about how unsuitable they must be, especially given the textured dashes in most vehicles or the configuration of air vents resulting in a lack of flat surfaces. With the recent purchase of a TomTom Start 25M, I tagged on one of these fairly generic mats. (I did find a Car Sat Nav TomTom GPS version of the mat – perhaps there are some specific properties unique to TomTom?)
Very simply, the mat is completely fit for purpose. Even with my textured Audi dash and central vents, which the corner of the mat has to wrap around, it remains firmly on the dash. I say "firmly" – the centre piece that the GPS unit mounts on seems to lift from the dash surface slightly. As a result you can detect slight vibration in the attached device. That said, with some very tight and fast cornering and even an emergency stop, the mat and sat nav stayed resolutely in place.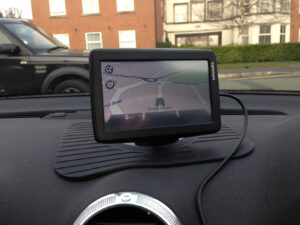 My TomTom Start 25M weighs in at 216 grams. If I'm honest I think that's about the maximum weight I'd want to mount on the mat but that's enough for most modern sat nav devices. I am very happy with the upright mounting of the sat nav and the fact I no longer have a sign on my windscreen announcing 'there is a sat nav in this car somewhere; break in and steal me'.
I highly recommend you give one of these a try. Cheap as chips and simply brilliant!