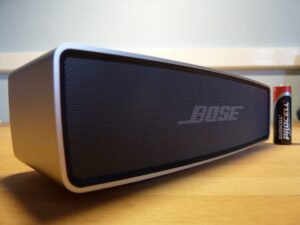 Seldom does a product reach out and and grab me with the intensity of "Have me, have me", like this product did. In fact I can honestly say that only the iPhone
, (the original first release), gave me anything like a similar sensation. I recall like it was yesterday, in December 2007, just a few weeks after the iPhone was launched, when I first held it, and realised in only a few minutes that, no matter what – I had to own one, and fast!
Now, I'm aware of bluetooth speakers – I have been for some time. I've conducted some modest research into them in the past; my conclusion was always they were too damn (expensive), or just rubbish. Suitable for a camping trip perhaps, but certainly not for full time home entertainment.
Well, a colleague brought one of these into work recently. I kid you not, within seconds of it springing into life, the same iPhone sensation gripped me and I ordered one for myself the very same day.
Bose, I think most will agree is a quality manufacturer of speakers. They have been one of the market leaders for as long as I can remember, and I can remember the days when "technically advanced" was when your cassette player could skip to the next track! One of the better things ever to come out of America, since Coca Cola, Bose is right up there on my scale of best perceived quality manufacturers, on a par with European examples such as Audi, Omega and HP Sauce.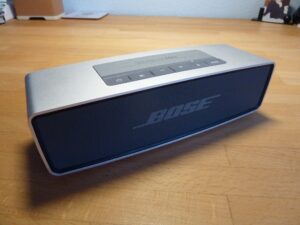 So when I first heard the Soundlink Mini in the flesh, not only was I blown away by the performance of such a compact unit, but I immediately also thought that it would fit the needs of my ever-demanding, cable-hating wife. The variety of places we could utilise this neat little device were numerous; we could take it outside in the summer, replacing the iPad Air that we use to play music when dining outside. Perhaps it could come with us on weekends away, to hotels, cottages, foreign holidays even? With a little thought, its use could be expanded with ease. Use it in the kitchen, broadcasting iPad Air audio from a YouTube cooking tutorial, listen to the football commentary whilst tinkering in the garage, piping Radio 5 Live from your iPhone 5s and so on. Take it into the bathroom, the workplace, your mate's house – the options are almost endless.
Made largely from aluminium, the speaker is robust and weighs around 1.5 lbs, giving an immediate impression of good build quality. It has rubberised top-mounted controls and is a cinch to use. It can pair with multiple devices, (remembering the last 6). Connection of your device, phone, iPad, Mac, or PC is even easier than connecting to your car's hands-free, without the need to enter any passcode.
From such a compact unit, my impression would be that it wouldn't cope with any modest volume demands, but how wrong I was. Whilst I agree it may fall short of providing music enough to satisfy a full-on house party, it'll certainly provide enough output to meet everyday needs in our house, and if I had neighbours, enough to get them banging on the wall I'm sure! One observation, of a slightly negative nature, is that you can't adjust the tone the speaker offers the listener. I have a number of theories as to why this may be, but ultimately the lack of such a feature is not a problem as the output offered is rich and deep enough to do justice to rock music, and the treble range is just as sweet for raw acoustic performances – I simply love it.
An optional extra is a Bose carry case made especially for this unit, but at around £40 I don't think it represents value for money. Bose also offer a variety of coloured soft shell cases, which you may find funky, but don't really appeal to me.
If you want to read about the detail of the unit to learn about battery life and range, you can do so on Bose's own website. I don't get too hung up about stuff like that. I'm never far from a power socket, and I don't live in a house with rooms anywhere big enough to test the range of the connectivity. Why would I want to control music upstairs when the unit is playing downstairs?!
If you've got £170 or thereabouts burning a hole in your pocket and need a wireless Bluetooth speaker which is well-built and offers top drawer performance, then stop reading this now, and get clicking! I'm married to a woman who views audio visual products / any technology really, about as high up her priority list as I do face cream and Yoga, so you may understand why we have clashed for years over these priorities. To be fair, cost isn't the usual bone of contention – normally it's whether it can be seen with the human eye or not. My wife doesn't really care what it sounds like, how technically advanced it might be, where it came from or anything like that: if it's visible, then "You think you're putting THAT, there?!" is a standard response. Cables are sinews of the devil!
For those of you living with such a woman, who lives the minimalist dream and likes her choones, imagine the points you'll score when you bin the cumbersome, slightly dated, yet perfectly functional and technically superior hi-fi unit and replace it with this?! If the £170 ticket price is making your eyes water too much though, take a look at Geek's review of the Soundlink SW100.
This slideshow requires JavaScript.
[easyreview title="Boris rating" icon="collab" cat1title="Ease of use" cat1detail="So easy, even Dummy could use it. Effortless syncing with multiple devices." cat1rating="5″ cat2title="Features" cat2detail="Pretty basic really, but it does what it does, very well. I didn't harbour any unrealistic expectations of it." cat2rating="3″ cat3title="Value for money" cat3detail="With a high ticket price, it's only expensive if it fails to perform, and it certainly doesn't." cat3rating="4″ cat4title="Build Quality" cat4detail="Premium build & premium performance, it's a 5 from me." cat4rating="5″ summary="With such simplistic function and premium performance and build, this is a top notch device. Well done Bose. "]