Let's get something straight with this review, right up front. I am no David Bailey and I don't really have any aspirations to be a photographer. When I bought this camera I had one objective: to improve the quality of the pictures I took beyond that of my existing point-and-click happy snapper. I wanted something simple to use with menu options that a non camera buff could understand without sitting a 2 day course.
Okay then, that established, on with this review.
I'll start with my usual first impressions. I may not want to be a photographer but I feel like one with this kit in my hands. It's a completely different beast to my usual compact in so many ways. But it also feels familiar, with simple and obvious buttons; you can take it out of the box and immediately start taking ultra-sharp pictures. It's ergonomic to hold and I had no problems while traversing rocks and perching in strange positions for interesting angles on my pictures.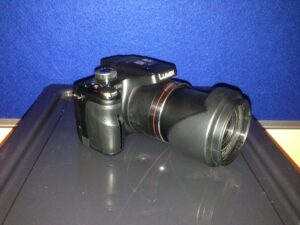 It's here I really started to feel the appeal of this camera, which Panasonic bills as a "bridge camera". Don't know what a bridge camera is? (I didn't.) From Wikipedia:
Bridge cameras are cameras which fill the niche between the single-lens reflex cameras (SLRs) and the point-and-shoot camera.
You can make it as easy or as technical as you like; I found that the results were so good it started to encourage me to take more time and effort in composing my pictures. Very quickly my 'happy snapping' progressed to something altogether different – I found interest developing as the results improved. All in all, a very enjoyable process in which good results were achieved quickly. Just the way I like it!
The zoom on this camera is amazing considering the price tag. On a recent camping trip I was able to demonstrate this to its full potential when my daft brother climbed a hill overlooking our camp-site and I captured one image without zoom and one zoomed right in.
There are buttons and features aplenty. I have only started to scratch the surface but the image clarity is truly amazing. For someone who was very used to taking very average images the pictures it produces are nothing short of incredible. It uses standard SD memory cards which is a bonus for me as all my other equipment uses these.
Okay, so I'm very happy indeed with the pictures it's producing but what's this – it also records in HD? Now I wasn't expecting much from this. In my experience a device designed to do one task that has a second task bolted on, tends to handle that extra task quite poorly. Not so in this case. I was pleasantly surprised with the quality of the HD video and how easy it was to use that feature. Coupling HD video with the power of the zoom it is a brilliant add-on. There's one drawback: the noise of the motorised zoom is intrusive and has to be edited out of the final video, oh yes and I guess I could do with a tripod to eliminate the camera shake.
As I felt like I was getting on better with the camera I became more ambitious and started trying to shoot wildlife. It's here I found myself frustrated by the time it takes to process images.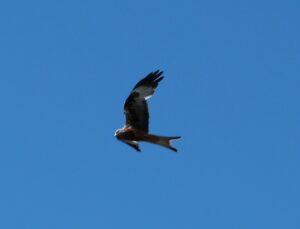 I had this image in my mind of rattling off shot after shot but the camera needed a second or two to sort itself out between pictures. There may well be a setting to alter this but out of the box, a little slow, as demonstrated by my attempts to capture a Red Kite.
So just to finish, going back to my very basic requirements of this camera, I'm really happy with the results. I've literally picked it up out of the box and not read a thing from the manual. With a minimum of tinkering I've been impressed with the image quality I've been able to achieve. See the gallery below for examples of my first efforts.
[easyreview title="Dummy rating" icon="dummy" cat1title="Ease of use" cat1detail="For the results here I've barely scratched the surface of this camera's abilities." cat1rating="3″ cat2title="Features" cat2detail="Certainly everything I need in a camera. So many automated focus settings, how can I go wrong?" cat2rating="4″ cat3title="Value for money" cat3detail="It's well over double what I would usually pay for a camera but the image quality is a big step up." cat3rating="4″ cat4title="Build quality" cat4detail="I must admit, I feel I have to take care with it. This is no action camera." cat4rating="2.5″ summary="Another star buy for me. I've really enjoyed using it and perhaps it's ignited the frustrated photographer in me."]