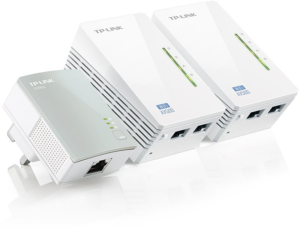 I've been using HomePlug AV adapters at home for years. These excellent devices turn your ring mains into a LAN, incredibly routing network data over your electrical cabling. As long as all your sockets are on the same phase, you can put a network socket wherever you have an electrical socket.
This is excellent news if you need to get Internet to some remote corner of your house, where your wifi doesn't reach, but don't want to trash the joint, installing network cabling. Plug one HomePlug device into a socket near your router and another wherever else you need it. That's pretty much job done. Some of these devices can transmit data at up to 500Mbps, which is pretty impressive.
After six years of constant use, my old ZyXEL PLA-401s started becoming less and less reliable. I had four of these – one by the downstairs router, one upstairs plumbed into a separate wireless access point, another in the garage, likewise and finally one in the loft for my servers (which I've since retired, in favour of an excellent all-singing, all-dancing Synology DS214Play). Over time, the ZyXELs along with the two WAPs have developed some idiosyncrasies, needing occasional restarts. They were running a little hot and that's never a good thing. Well they've provided good service, so nothing lost.
Ideally, I wanted to retire all the existing HomePlug adapters, plus the two wireless access points – and to do that in a cost-effective manner. My search brought me to TP-Link's triple pack, the memorably named "TL-WPA4220T Kit". £80 gets you three Powerline adapters, two of which are also wireless access points, with twin ethernet ports. Turns out this exactly matched my requirements, since I no longer needed a device in my loft. One device to plug into my wireless broadband router, one to provide wireless upstairs (and connect to two adjoining cabled devices) and one for the garage to provide wireless access in our garden.
TP-Link is one of the more reputable electronics manufacturers to send us gadgets out of China. Still, I've had a few run-ins with Chinese electronics, especially relatively cheap devices like these Powerline adapters, so I wasn't expecting things to be entirely straightforward.
My first impression was favourable. My old ZyXEL adapters look clunky and old-fashioned next to these sleek, shiny gizmos. Clearly over the last few years, like all technology, the adapters have shrunk; and the pressure of certain design-led technology manufacturers has persuaded others to give aesthetics at least a token consideration prior to launch. There are two larger white adapters in the box (separately available as TL-WPA4220s) and a smaller grey-faced TL-PA4010. The smaller adapter is not wifi-enabled – you connect this one to your wireless router and it "introduces" your Internet connection to all other adapters (via the mains).
I read the promises of the simple "plug & play" (oh how nineties!) setup with a degree of skepticism. The poorly translated manuals did not instill confidence (though I've seen far worse). That said, these are consumer devices and I'm a Geek, so you'd think it wouldn't be insurmountable. 😀
First, the problems. I could not get WPS to work. The idea is that you press the WPS button on your router, then the "wifi clone" button on the Powerline WAPs, and the network settings are automatically copied. I tried this every which way. You'll appreciate that I'm no Dummy when it comes to these things, but it just wasn't happening. Possibly my DrayTek router speaks a slightly different dialect of WPS. The TP-Links couldn't understand the accent.
Another problem came from the fact that I attempted to set up the TP-Link adapters while the old ZyXELs were still installed. I half-expected that this would cause trouble. I was right. Ah well. A couple of factory resets later and with the ZyXELs unplugged we were working much better.
One more problem – though the TP-Links came with a CD, my laptop doesn't possess a CD drive. I proxied the files via another CD-equipped device, only to find that the software included on the disk didn't really work well under Windows 8. Doh!
Never mind. If you find yourself in this situation, do what I did: head over to TP-Link's download site and grab everything you need from there.
Happily, once I had the correct software, I was able (easily) to log onto the wireless-enabled TP-Links, and enter all the wifi settings (twice, one for each WAP). With this all done, with the three devices talking to each other and the two wireless-enabled devices offering the same authentication requirements as my router, everything is now working brilliantly.
A great bonus for me, is the huge signal you get from the WAPs. I'd already upgraded my DrayTek router with larger antennae, but the TP-Link WAPs just blew it away. Twice the signal strength and much better connectivity all round my house (and up my garden). The drawback is that someone can now wardrive my network from the next county, but hey, that's small price to pay for speed, right?
[easyreview title="Geek rating" icon="geek" cat1title="Ease of use" cat1detail="Some problems with WPS, but not too difficult to rectify." cat1rating="4″ cat2title="Features" cat2detail="High speed, extra LAN ports, WAPs included in the kit, MAC filtering if you want it – all in all, pretty impressive feature set." cat2rating="4.5″ cat3title="Value for money" cat3detail="Basically no kit that I've seen beats this on value." cat3rating="5″ cat4title="Build Quality" cat4detail="Looks really well built. Solid plastics. Reasonably attractive as these things go and not too big." cat4rating="4.5″ summary="For me, this kit was great value for money. I wouldn't have bought it otherwise. I have no hesitation recommending it."]