I've long been a fan of the Kodak Playsport ZX3
. It's been my mainstay action camera for a few years because of its excellent balance of value, quality and durability. It's also got one of the better external microphone systems and brilliant image stabilization.
If you've ever seen any of my action films you'll know that I feature 4×4 vehicles and the reason I'd selected a waterproof camera is because they are usually required to splash through rivers or more typically survive the rain of Welsh mountains!!!
Well, here at Geek & Dummy we have taken delivery of some very promising new action cameras (reviews to follow) that may well be ending my love affair with the Playsport. I thought it was time to see what it could do underwater. If the claims made by Kodak prove to be bunkum and this kills one of my beloved Playsports, maybe I can live with that now replacements are at hand!
Before I start the review in detail, I always feel the need to qualify the ZX3. It's pretty much end of life and is an action camera that has been on the market for 5 years+. Before I first reviewed them they were selling
for about £45. Unfortunately they now go for £60+, which may well be my fault for shining the spotlight on them. Amazon does have the successor ZX5 listed for £156
and whilst I wouldn't pay that because of the abuse I give them, I'd still say that offered some value.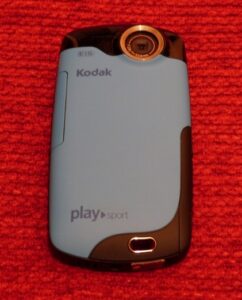 What we have then is essentially quite old tech at a bargain price.
The Zx3 is ready to go straight into the water as it is without the need for a secondary case. As I've described in a previous review all its compartments are sealed and water tight. What you do need to do is alter the camera's software to cope with being underwater.
Anyway, enough chatting from me. This is just one of those reviews where you need to see the results. I've used PowerDirector 10

to edit the clips but other than slowing a few frames down or reversing it for fun, this is unadulterated and straight from the camera.
As I have already reviewed the main camera this review is purely covering the underwater usability.