I've long been an Apple fan (well a fan of the core devices they produce – not of the way they extort loyal customers with ridiculous prices for add on-consumer products). So when I got my iPhone 5 on the day it was released to the UK, my plan was to hang fire for a month or two and wait to see what the world of eBay and Amazon would deliver in the way of gimmicky add-ons. In particular, I always like a second charger and a dock station so I can charge and view my phone at my desk. Months after the iPhone 5 release nothing has been officially produced by Apple and the Lightning cable is still very expensive but I found this nicely designed dock that claimed to tick all my boxes.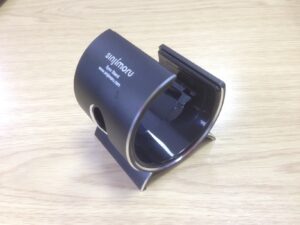 Initially I was attracted by the design and the fact it worked by integrating my existing Lightning cable. It looked to be a good bet, especially if you were to believe the Amazon reviews.
On opening the dock, I was pleasantly surprised by its quality and feel. It appears to have been machined from aluminium and then plasti-coated. It is a solid and compact little design and looks as good on my desk as it did in the pictures on Amazon. It comes with a couple of adaptors to allow either the new Lightning or the older pin charger to be threaded through the dock and mounted. In this way, the phone can (theoretically) sit on the dock and over the charging point, with the cable inserted into the phone. I've only tested this with my Lightning-cabled iPhone 5, and it's here that I started to have problems.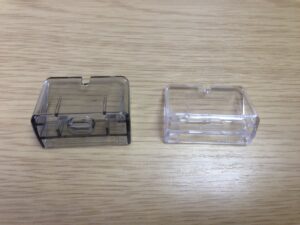 The connection is unreliable at best. The Lightning cable pushes through a transparent base plate and the thickness of this base plate seems to affect the quality of the connection into the phone. Don't get me wrong, if you wiggle it about a bit it eventually, sometimes connects but that's not really what I want from a dock on my desk. I want something solid and easy to click in, which brings me to my next point. The way the dock seats the phone means it's almost entirely supported by the Lightning cable's connector. When this was the older style pin that might have been ok, because it was wide and robust but with the Lightning pin: recipe for disaster.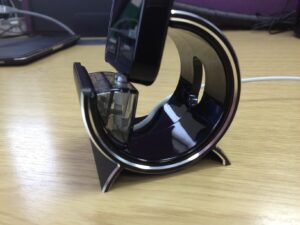 For me, this has become a (very!) expensive stand for my phone that doesn't charge or sync my phone. I have no idea where the other reviews came from on Amazon because it just doesn't work. I'll give it 1/2 simply because it looks pretty!
[easyreview title="Dummy rating" icon="dummy" cat1title="Ease of use" cat1detail="Well, it only works as an expensive stand" cat1rating="0.5″ cat2title="Features" cat2detail="Simply doesn't work as described for the iPhone 5″ cat2rating="0″ cat3title="Value for money" cat3detail="Mmmmmm!! Feel like I've been conned on this purchase" cat3rating="0″ cat4title="Build Quality" cat4detail="It's a shame it doesn't work. It's very nicely built" cat4rating="4″ summary="I'd seriously avoid this if you are after an iPhone 5 dock. It's useless."]
This slideshow requires JavaScript.