As for many other people, my phone has become my go-to device for all my mobile entertainment needs. I currently have a Samsung Galaxy Note 2 (yeah, the one with the ludicrously large screen), so it's great for anything from internet browsing to watching films in HD quality. I also use it as an MP3 player and for listening to podcasts and audiobooks.
I recently started looking around for a portable speaker that I could take on my occasional travels and, not to put too fine a point on it, use in the bathroom. Surely I'm not the only one that likes to listen to audio books while I shower?
The Note 2 isn't, er, noted for its high quality speakers. Very few smartphone manufacturers have been able to complete with Apple on this front. But even the mighty built-in speakers of an iPhone struggle to compete with the noise of my geyser-like shower or electric shaver.
I'll be honest, I'm a bit of a tightwad when it comes to my technology purchases, so I was looking for a device that could combine the impossible qualities of sound quality, power and cheapness. I wanted the convenience of connecting by Bluetooth, with the option of a 3.5mm socket for greater flexibility.
Having considered many products and read a lot of reviews, the device I settled for was this, the SoundWave SW100: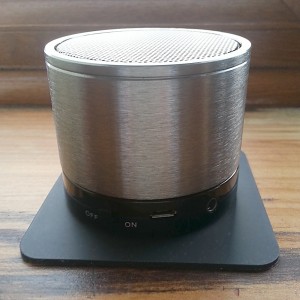 Here are some vital statistics:
Small – about three inches tall
Reasonably light – I haven't put it on the scales, but it feels about the same weight as my Note 2 + case
Loud – I can't find any official information on wattage, but when I turned it up to max in my small kitchen, it was louder than I could tolerate; at that point, there was some mild distortion
Built-in microphone – theoretically you can therefore use this device for conference calls; I have not tried this, but for the sound alone it can only be better than putting your phone into speaker mode
A claimed 10 hours music/talk time
A claimed 800 hours standby time – I'm not sure what use this figure is though; I'll either be using it or charging it
Out of the box, the speaker was fully charged in less than an hour. It comes with a microUSB cable for this purpose. For my first trial, I took it into my company's noisy server room. About 80% volume was sufficient to hear music clearly and without distortion, over the cacophony of fans and aircon.
It paired over Bluetooth without fuss. I have noticed the occasional blip when playing through Bluetooth, but I think this is more likely to be down to the phone (of which I demand a lot!) than to the speaker. In any event, you can use a 3.5mm audio cable (supplied) if you prefer.
The speaker has a non-slip base, great for most surfaces. The manufacturers have thoughtfully included an additional non-slip mat, making the speaker very unlikely to budge during normal usage. The non-slip mat also slightly neutralises the effect of resonance transmitted through the surface on which you place the speaker. Unless you're an audiophile (I confess I'm not), this probably won't mean a lot, but for some, it will be important.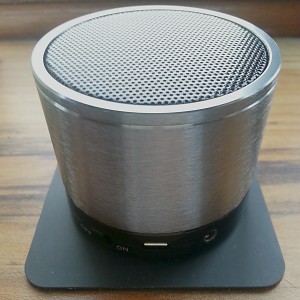 For the size of the speaker, I was impressed by the bass response. In fact this was one of the reasons I bought the speaker – to improve bass experience, without having to lug around a sub woofer and without having to spend thousands on a high-end miniaturised speaker system.
Build quality is good. The case is mainly brushed aluminium, and not unattractive. It passed the spouse test; no exclamations of,"Oh how hideous! What horrendous technological monstrosity is that?!"
I paid £20 for the speaker. Although at one time it was available for less, it is still a bargain at this price. It receives favourable reviews (wherever you look) and I can only confirm what other reviewers are saying. Well worth the money, especially when you can consider you can pay four times the price for a product that may have a pretty label but is otherwise no better.
Conclusion
If you want a portable speaker, on the go, don't mind that the output is mono, and don't expect the sound to fill a concert hall, this is the device for you. Highly recommended.