Question
What do Christians have to say about the existence of dinosaurs?
Answer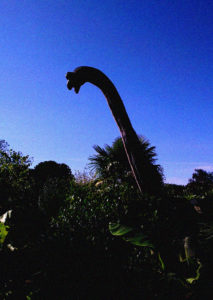 There are quite a few differing views within the Christian community, ranging from those who believe the fossil records were placed there by God as a test of our faith, to those who believe that the bible must be reinterpreted in the light of the findings of science.
I suppose the biggest perceived hurdle is the assumption that the bible insists the earth is no more than a few thousand years old whereas science insists that dinosaurs became extinct many millions of years ago. I deal with this separately in my How Old is the Earth article. Suffice it to say here that the bible has several references to large and otherwise unidentified creatures such as "leviathan" (e.g. Job 41:1, Psalm 74:14). I do not have a strong view on the time scales within which these creatures existed, but I do not find their existence incompatible with a belief in the truth of the bible.