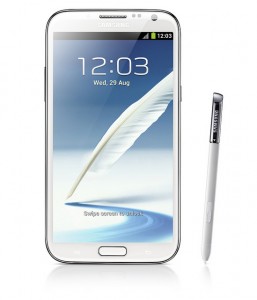 The Galaxy Note 2
(GT-N7105). What a phone. "Too big!" you say? "I can't see what the problem is," I say.
Imagine my dismay then this morning, when I discovered my favourite gadget had rebooted itself (without my permission) and was sat on the animated Samsung logo, quietly glowing to itself, most pathetically. Every few seconds, the haptic motor clicked, like a feeble death rattle.
"Curtains", I thought.
"Pull yourself together man!" I thought.
After removing the battery, rebooting and generally pleading for a reprieve failed to achieve any results, I took stock and started panicking about how many days it was since I last took a backup. A factory reset loomed.
With one last gasping hope I tried rebooting into safe mode. On the Note 2, from a powered off state, you keep the "volume down" button depressed while powering up. Also, keep the power button pressed until the Samsung logo appears.
To my great relief, the phone booted up in safe mode. I restarted the phone from there and it powered up normally. Next job: perform a backup!
Sadly, this won't fix physical faults with your phone. Sorry if it doesn't work for you.
Samsung Galaxy Note II image copyright © SamsungTomorrow, licensed under Creative Commons. Used with permission.