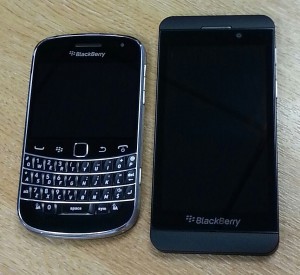 One of the perks of my job is getting to try out some new mobile phones, once they've been released by my company's preferred carrier. This week I took delivery of a BlackBerry Z10
. It's a really nice device, but given that my normal phone is a Samsung Galaxy Note 2
, I'm afraid I became a little bored of the Z10 within 10 minutes of powering it up. (Yeah yeah, I know, first world problems.)
Inevitably with BlackBerry OS 10 (which is a stonkingly good OS, by the way), one of the problems was going to be that the apps are lagging behind mainstream Apple and Android offerings. Google's Play store and Apple's App Store have apps outnumbering BlackBerry apps by a factor of 10. Whether BlackBerry will catch up is a question not even the most far-seeing analysts can predict with confidence.
In the meantime, there will be some speed bumps encountered by dedicated BlackBerry aficionados, such as the one I ran into when attempting to set up my Gmail account today. Like all security conscious users, I have 2-step authentication enabled on my Gmail account. That means that whenever I log into Gmail using a new device or application, a text message is sent to my phone containing a one-time authorisation code, which then needs to be entered into whichever application is trying to use my Gmail credentials.
The email app on BlackBerry 10 is not (yet) capable of handling this process. That means you need to use one of the alternative methods of authentication. To start, you must (preferably from a computer) log into your Google 2-step verification page. Once there, you can be forgiven for thinking that Google has got you covered. There is, after all, a link saying "BlackBerry":

If you follow the link, you're instructed to browse to m.google.com/authenticator and download the Authenticator app to your phone, following which everything will be ticketyboo. Except it won't. You are taken to a largely blank web page. Buried deep within Google's online help is the reason: "To use Google Authenticator on your BlackBerry device, you must have OS 4.5-7.0." No OS 10 support then. Bother.
Never fear. Go back to the 2-step verification page and instead choose the Manage application-specific passwords link. Go to the bottom of that page ("Step 1 of 2: Generate a new application-specific password"). Enter a name (like "BlackBerry Z10") and click "Generate". You'll be given a code to enter in the IMAP password and SMTP password boxes within the email setup on your phone. Once you've done that, you're good to go.