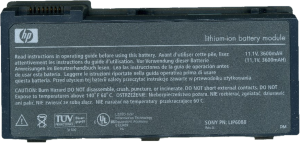 Replacement batteries for laptops can be quite expensive, so here are a few ideas to get the most out of your battery in terms of charge and overall life.
Background information
Most modern laptop batteries are of the lithium-ion ("li-ion") variety. You can expect them to last two to four years if properly cared for. They will degrade over time, whether or not they are in use. They last best at a temperature of 15°C/59°F, although it is unlikely to be practical to use them at this temperature.
This is a chemical technology, which is under continual development, so it is entirely conceivable that a new li-ion battery for an old laptop will last much better than the original battery did. This and other factors make it fairly hard to predict how long your laptop will last on one charge. All you can do is to try and get the best out of your particular battery.
Did you know? Early li-ion notebook batteries were known to explode! Modern batteries have protection circuits built in which prevent the lithium ion converting into unstable lithium metal.
Power consumption tips
Reduce the brightness of your screen when running on batteries.
Use a blank screensaver, and set it to operate after a relatively short period of inactivity. Better still, switch off or hibernate your laptop if you won't be using it for more than 5 minutes or so.
Set your power options (e.g. in Windows control panel) to minimize power consumption. This includes having hard drives power down as much as possible.
Switch off wireless networking, if you're not using it.
Unplug all PCMCIA cards (or similar) and USB devices that you're not using. Ditto optical drives (CDROM etc).
Certain specialist notebook graphics cards can be set to run "underclocked" at less than their full potential. This saves energy. Do this with caution though, because it can cause conflicts with certain graphics software.
Close all the programs you're not using. This includes all the programs that run in the background, unused services in Windows, etc. Which services to stop is beyond the scope of this blog entry.
Certain sound chips have a power saving mode that can be activated via the control panel.
Caution when hot! It is inadvisable to use a li-ion battery when particularly hot. Heat can generally be a problem with laptops, so make sure that all the vents are clear, that the laptop is not sitting on a highly insulating material (e.g. sat on a duvet when used in bed!) and that all fans are operating as they should.
Battery life tips
Do not keep the laptop plugged in whilst the battery is installed; this keeps the battery on a permanent charge/ discharge cycle which will cause it to age rapidly. Instead remove the battery if you're running on AC power.
If you're going to store the battery or leave it unused for any length of time, discharge it first to about 40% capacity – never fully discharge a li-ion battery. Aim to store it at around 15°C/59°F (see above).
You do not need to discharge or charge a li-ion battery fully – they do not suffer from the "memory effect" experienced with nickel cadmium or nickel metal hydride rechargeables. So only discharge partially – avoid going below 20% capacity if you can.
When the battery is full or at over 95% charge, stop charging it!
Don't bother buying old stock of batteries no matter how cheap, since they will have degraded for the above reasons.
Remember to recycle. Li-ion batteries should be recycled wherever possible. Your council may have suitable local facilities.
For everything you could possibly want to know about batteries in general, visit the Battery University!
Photo based on battery image copyright © photomartimages, licensed under Creative Commons. Used with permission.